There were a few places in Atlanta where cyclists could go for repairs, but they were all dealerships. Jere's small-town operation was unique and his business model has stood the test of time.

Forty years later, Jere's Cyclecraft in Moreland has maintained a level of flexibility in terms of what his operation can offer each individual.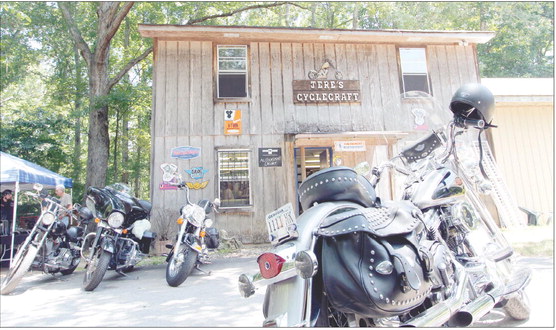 Photo courtesy EDDIE SHAW
Jere's Cyclecraft celebrates its 40th year of business this year.
Even with the opening of a Harley-Davidson dealership nearby, Jere sees nothing but potential.

Harley Davidson of Newnan owner Gene Evans and general manager Kevin Loyd were both Cyclecraft customers and maintain a good relationship.

'The main focus is both sales and clothing. We don't sell vehicles new or used. However, we can maintain and repair anything from Panheads to the 2013 models,' Mr. Evans says.

'I told Gene, 'just sell every Harley Davidson you can and I'll get my share,' ' Jere said It's this optimistic but pragmatic attitude that has allowed Jere's shop to stand firmly for now 40 years.

When Jere's Cyclecraft started out in 1973, the main focus was on repair, custom bikes and paintwork. Later, the company shifted attention into stocking more parts and expanding the showroom, in order to allow customers to see the products.

One of the most interesting aspects of Cyclecraft is that the shop goes above and beyond. Jere's operation transcends the general cosmetic and vanity based customization of motorcycles into a far more personal and human approach.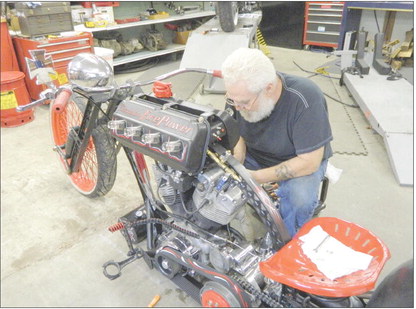 Photo by CLAY NEELY
Steven 'Smitty' Smith works on an exquisite 'Bar Hopper' style motorcycle.

When asked about some of his proudest customizations, Jere recalls a customer who had a prosthetic left leg.

'He could down shift okay, but it was hard to upshift. We rigged it up with an electric shifter like on a drag race bike so he only had to put the bike in gear initially, and then he could push a button anytime he wanted to shift up or down,' Jere said.

On a separate occasion, a man with a disabled right leg was served in the shop.

'We had to build a special brake pedal because he couldn't lift his leg enough to move forward to the pedal. So we built one that he could reach.'

Jere also makes a point to mention the women who tend to be shorter and not quite as strong.

'We understand their needs and help them the best we can. A lot of shops don't give women much respect and sometimes take advantage of women. That's just not cool.'

Photo by CLAY NEELY
From left, Pamela Hall and Jere Hall have been at the helm of Jere's Cyclecraft s since its inception in 1973.

Jere and Pamela could not have continued on without the understanding and goodwill of their neighbors who have supported the business along the way.

A prime example of this goodwill is the kind, 86-yearold neighbor who lives just across the street from the shop.

'During our customer appreciation day, Miss Anne lets our guests park in her yard but we always have a rocking chair set out for her,' smiles Jere.

Has he experienced any trends in operating a motorcycle shop? 'Constantly' he says. 'The only constant is change.'

'The custom chopper revival of only a few years ago seems to be waning and the roots of that were laid in the 1960s and '70s,' he said. 'Now, the full dresser touring bikes are the big thing and that's been done before as well.'

With such a small operation, it is much easier to navigate through the changes.

When the custom bikes were popular, Jere's shop catered to the custom bikes and parts. Later, when the trend began dying away, the shop moved toward the more mechanical side of things.

'It's like when the shoe repairman does better than the guy who sells shoes,' expresses Pamela. 'And we have been around long enough to see trends coming.'

Flexibility, low overhead and 40 years of experience, has ensured success thus far and will likely continue for years to come.

When presented with the subject of the future regarding the business, Jere adheres to the same philosophy which has brought him this far: taking life as it comes, one day at a time.

It seems that there is no real desire to stop now, though.

'My nephew Jamie (Scott) has been working with us since he was 12 years old and he's 36 now. When we decide that we've had enough, if he wants it, then it's all his.'

Until then, Jere seems ready to handle whatever comes through the door on any given day.

Despite the countless challenges that a small business owner can face for over 40 years, a flexible business philosophy and sensible approach to change seems to be the key to longevity for Jere's Cyclecraft.